To request a complimentary digital examination copy to review for classroom use, please complete the form below and click submit.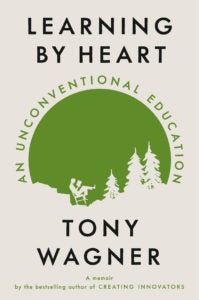 Tony Wagner is an eminent education specialist: he has taught at every grade level from high school through graduate school; worked at Harvard; done significant work for the Bill & Melinda Gates Foundation; and speaks across the country and all over the world. But before he found his success, Wagner was kicked out of middle school, expelled from high school, and dropped out of two colleges. Learning by Heart is his powerful account of his years as a student and teacher.
After struggling in both roles, he learned to create meaningful learning experiences despite the constraints of conventional schooling–initially for himself and then for his students–based on understanding each student's real interests and strengthening his or her intrinsic motivations. Wagner's story sheds light on critical issues facing parents and educators today, and reminds us that trial and error, resilience, and respect for the individual, are at the very heart of all teaching and learning.
"A page turner. With candor and clarity, Tony Wagner tells the story of his remarkable life and, in so doing, tells the story of our education system." —Angela Duckworth, Founder and CEO, Character Lab, and New York Times bestselling author of Grit

"Eloquent, intimate… Tony Wagner's memoir is a much-needed account of how unconventional kids navigate a conventional education. I love this book, find hope in Wagner's story, and will be recommending it to parents who worry that their children won't find their way in the world." —Jessica Lahey, New York Times bestselling author of The Gift of Failure