Neil Shubin, author of
Your Inner Fish
,
Some Assembly Required
, and
The Universe Within
will be digitally visiting instructors who are using any of his books this spring semester. If you would like to arrange for him to visit your class, please Direct Message him on Twitter:
@NeilShubin
.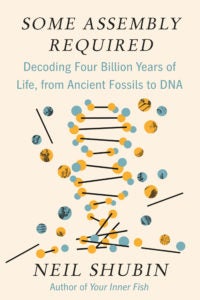 Some Assembly Required: Decoding Four Billion Years of Life, From Ancient Fossils to DNA 
A lively and accessible account of the great transformations in the history of life on Earth—a new view of the evolution of human and animal life that explains how the incredible diversity of life on our planet came to be. Prehistoric fossils coupled with new DNA technology have given us the tools to answer some of the basic questions of our existence: How do big changes in evolution happen? Is our presence on Earth the product of mere chance? Neil Shubin delves into these questions in Some Assembly Required, revealing a multibillion-year evolutionary history filled with twists and turns, trial and error, accident and invention. 
"Dr. Shubin's clear and engaging writing rewards us with a deeper understanding of how
all life on our planet is interconnected. Steeped in the paradigm of evolutionary theory,
he inspires us to think more deeply about our connectedness with the natural world. Charles
Darwin would applaud Dr. Shubin's clear explanations and insightful rendering of the
incontrovertible evidence for the evolution of all life on planet Earth." —Donald Johanson,
director, Institute of Human Origins; discoverer of "Lucy"
"Shubin is a brilliant scientist storyteller—an eloquent narrator, who draws you into his
rich, evolving world of walking fish and mutant flies, prehistoric birds and precocious biologists.
Part adventure, part mystery, with twists and turns you couldn't make up if you tried, Some
Assembly Required is an irresistible read!" —Robert M. Hazen, Carnegie Institution for Science,
and author of Symphony in C
"A rollicking ride. . . . It's light of touch, anecdote-rich and funny. . . . Satisfyingly informative. . . .
Fossils, DNA, scientists with a penchant for suits of armour—what's not to love?"
—BBC Wildlife Magazine
"Intimate and thoughtful. . . . Exciting. . . . [A] sweeping evolutionary history. . . . One of the
book's best features is a 30-page notes section at the end, in which each note could be fodder
for an entire volume. These notes are separated by chapter, and many tell a short, engaging
story, often accompanied by annotated suggestions for further reading. Readers will want to
peruse this section and follow up on some of those readings." —Science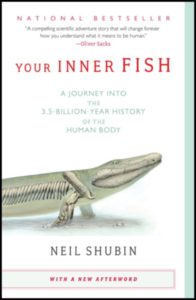 Your Inner Fish: A Journey into the 3.5-Billion-Year History of the Human Body 
Winner of the Phi Beta Kappa Award in Science
Winner of the National Academy of Sciences Book Award
Finalist for the Royal Society Prize for Science Books
The story of evolution by tracing the organs of the human body back millions of years, long before the first creatures walked the earth. By examining fossils and DNA, Neil Shubin shows us why we look the way we do—that our hands actually resemble fish fins, our head is organized like that of a long-extinct jawless fish, and major parts of our genome look and function like those of worms and bacteria.
"Shubin's hand, transformed from what was once a fishy fin, provides a powerful example of
what evolution is capable of. . . . A deft synthesis." —New Scientist
"[Shubin's] simple, passionate writing may turn more than a few high-school students into
aspiring biologists." —Nature
"The human story didn't start with the first bipeds; it began literally billions of years ago. In this
easy-reading volume, Shubin shows us how to discover that long and fascinating history in the
structure of our own bodies while weaving in a charming account of his own scientific journey."
—Ian Tattersall, curator, American Museum of Natural History

In the CBS documentary series Your Inner Fish, Neil Shubin uncovers questions and discoveries of human evolution. Watch a preview Your Inner Fish here.