Discovered in the attic in which she spent the last years of her life, Anne Frank's remarkable diary, a powerful reminder of the horrors of war and an eloquent testament to the human spirit, has since become a world classic beloved by generations of students. As of March 2021, all Penguin Random House editions of The Diary of a Young Girl are now based on the Definitive Edition of the text, authorized by the Anne Frank Fonds.
What is The Diary of a Young Girl "Definitive Edition"?
When the diary was first published in 1952, it omitted almost 30 percent of Anne's original diary. Anne's father, Otto Frank, quite deliberately excluded sections where Anne expressed negative feelings about her mother and others in the Annex, believing that Anne would not have wanted such views made public. In addition, the original Dutch publisher was conservative and uncomfortable printing Anne's entries concerning her burgeoning sexuality.
The Definitive Edition restored all the text that had been omitted, and was first published in a new translation by Susan Massotty in 1995.
The Definitive Edition is preferred as the most complete and accurate edition of The Diary of a Young Girl available.
See below for key information about each edition and format published by Penguin Random House.
ENGLISH-LANGUAGE EDITIONS
Edited by Mirjam Pressler; Translated by Susan Massotty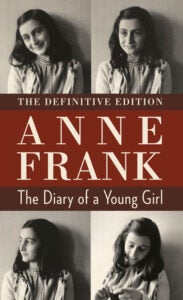 Bantam | 978-0-553-57712-9
Mass Market | 400 pages | $7.99
CONTAINS: Complete diary • 8-page photo insert • Illustrations • ADDED—AND NOW EXCLUSIVE TO THIS EDITION: Introduction by Eleanor Roosevelt • ADDED: Foreword and Afterword • 48 NEW PAGES • 400 TOTAL PAGES
Also available in eBook format and as an audio download:
Anchor | 978-0-307-77620-4 | eBook | 352 pages
Listening Library | 978-0-7393-6815-2 | Audiobook Download
SPANISH-LANGUAGE EDITION: DIARIO DE ANNE FRANK
Vintage Español | 978-0-525-56588-8
Trade Paperback | 384 pages | $13.95
Also available in eBook format:
Vintage Español | 978-0-307-83237-5
eBook | 384 pages
THE GRAPHIC ADAPTATION
Illustrated by David Polonsky; Adapted by Ari Folman
Anne Frank's Diary: The Graphic Adaptation
Pantheon | 978-1-101-87179-9
Hardcover | 160 pages | $24.95
El Diario de Anne Frank (novela gráfica)
Vintage Español | 978-0-525-56450-8
Hardcover | 160 pages | $24.95